New York Times bestselling author Cassia Leo tops today's Buffet with an omnibus edition containing the entire "Luke" series of romantic suspense novels. It's a sexy and thrilling series about love and treachery.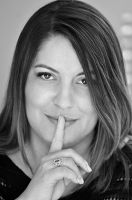 Cassia grew up in California and has lived in three different countries. She loves to travel and her dream is to one day score a record deal based on her shower singing skills. She is also the author of the "Shattered Hearts" series (Relentless, Pieces of You, Bring Me Home). She is also the author of the popular Luke and Chase series.
Cassia enjoys coffee, chocolate, and margaritas with salt. When she's not writing, she spends way too much time watching old reruns of "Friends" and "Sex and the City." When she's not watching reruns, she's usually enjoying the California sunshine or reading.
As usual, each book listed here has gone FREE within the past 24 hours (except for the "Kindle Daily Deals" on page 3). Warning: Kindle book promotions can end without notice, so before downloading click the link "See Kindle price at Amazon" to verify that the book is still free. (Prices and availability may differ outside USA.)
Romantic Suspense
Author: Cassia Leo

At 28, Luke Maxwell is the hottest eligible bachelor in America and the billionaire CEO of Maxwell Computers. When Brina Kingston is hired by Luke's competitor as a corporate spy, Brina successfully works her way into a position in Luke's office and his bed. But she soon finds herself risking the most important assignment of her career and, possibly, the greatest love of her life.
Due to strong language and sexual content, this series is not intended for readers under the age of 18.
Christian Fiction > Historical
Author: Janette Oke

Josh Jones realizes his family isn't typical, but it's the only life he's ever known. Aunt Lou, Gramps, Uncle Charlie, Grandpa–they all have shaped the young man he has become. But as he grows into manhood, Josh begins to face important questions about life, love, and faith. Three million books sold in the series!
Historical Romance
Author: Colleen Connally

Someone wants Alyce Hythe dead…
Shunned from London society for being the daughter of England's most notorious spy, Alyce Hythe desires only to clear her father's name. For years, she has been hidden away from all prying eyes, given a new identity and told to forget who she was. But strange things have been happening causing old rumors to once more be whispered. Long has Lord Julian Casvelyn lived with guilt brought on when his brother was murdered by England's most infamous traitor. But one eventful night has changed everything Lord Julian believed about his brother's death. Never did he suspect the woman he has just saved from certain harm is the daughter of that man. Now Julian is caught in midst of a conspiracy and desire for that woman. Thrown together by fate, the two search for answers long denied them and along the way discover a love that can free them both.
Teen & Young Adult > Science Fiction & Fantasy
Author: Amy Miles

Roseline Enescue didn't ask to become an immortal, to have all of the guests at her wedding slaughtered, or be forced into marriage with a man whose lust for blood would one day ignite the vampire legend.
Willing to risk everything for a chance at a normal life, Roseline escapes to America, but her transition into the human world isn't easy. Mortal men flock after her while cutthroat girls plot her demise. Yet she remains relatively unfazed until she meets Gabriel Marston. As their lives entwine, Roseline realizes he is more than he seems. His ability to grind concrete into dust pales in comparison to the glowing cross tattoo that mysteriously appears on his forearms.
Despite the forbidden bond between them, Roseline can't help wondering what Gabriel is. He's not human. He's not immortal. So just what is he?
Teen & Young Adult > Fantasy > Paranormal & Urban
Author: Amanda Hocking

Nineteen-year-old Remy King is on a mission to get across the wasteland left of America, and nothing will stand in her way – not violent marauders, a spoiled rock star, or an army of flesh-eating zombies.
"This is the way the world ends – not with a bang or a whimper, but with zombies breaking down the back door."
Science Fiction > Dystopian
Author: WJ Davies

Time is running out. As the Great Flood threatens to consume the silo, Ace and a team of divers are in a desperate battle to avert disaster. When a terrible accident destroys the person he cares about most, Ace has little left to live for.
After nearly succumbing to the silo's flooded depths, he realizes that drastic measures must be taken in order to save their underground home. But those in charge deem his ideas too dangerous, his methods too forbidden, and he is shunned for his sin of toxic words.
When an opportunity for redemption presents itself, Ace has only one question: Why should he fight to save these people, if they aren't willing to help themselves?
Humor & Entertainment
Author: Allena Hansen

For Allena Hansen, a vicious bear attack was "no biggie" compared to the trauma inflicted by her refined sixties upbringing, stint as Playboy's token intellectual bimbo, and enough cowgirl angst to knock even Job for a loop.
A tragicomic collection of latter day Grimm's Fairy Tales, Chomp, Chomp, Chomp; How I Survived a Bear Attack and Other Harrowing Tales introduces Hansen as the smart-assed socialite and full-contact gardener that Hunter S. Thompson once toasted as "the distaff Hunter S. Thompson."
Offering herself up as a cautionary example, Hansen poses the age-old question, 'What makes a survivor?" Read this book and remain as puzzled as ever, but marvel at her uncompromisingly bad judgment and uncanny resilience—just might learn something that could save your life.
Cookbooks, Food & Wine > Baking > Chocolate
Author: Anna Wade

Chocolate does not need an introduction. You know you love it, you know must have it, so come and get it.
Includes recipes for:
* Chocolate cookies
* Chocolate cheesecakes
* Chocolate cupcakes
* Chocolate brownies
* Chocolate cakes
* Chocolate pies
* Chocolate mousse
* Chocolate fondue
* Chocolate truffles
and much more….
Horror > Occult
Author: Jonas Saul

A strange man in a fedora has been following her. Before she can find out who he is she's arrested and brought to a Hungarian jail. After her release, she's ordered out of the country. The man in the fedora shows up at her hotel. He explains that he's from a psychic research organization funded by the United States Government and that she is to come with him back to the States. When she refuses to go he tells her that she doesn't have a choice as she's now property of the United States Government.
Then Vivian sends her a message warning her that it all ends in "The Crypt" in nine days and that she's sorry.
While Sarah remains in Hungary and struggles to locate Armond Stuart she has to keep the Hungarian Government off her back as well as the fedora-wearing American who has a ten-man team hunting her.
The only way to escape their reach is to fake her death.
TODAY'S BARGAINS……………What's this?
Mystery, Thriller & Suspense
Author: S.G. Redling
Regularly $4.99, Today $1.99

Dani, a data analyst with an elite security firm, possesses the unnerving ability to read people by the trash they leave behind. Receipts, parking tickets, the detritus of daily life—if you leave it behind, she will figure you out. Her latest case involves high-tech industrial espionage at a corporation with ties to the military. But when a team of assassins sweeps through the firm, stealing all files and killing her coworkers, Dani narrowly escapes. Whoever ordered the strike thinks Dani has vital information and they put a hit man named Booker on her trail.
Armed with only her wits and a bag of random investigation materials, Dani must figure out who the enemy really is while playing a high-stakes game of cat and mouse with the cunning hit man who has an agenda of his own.
Romance > Contemporary
Author: Marina Adair
Regularly $4.99, Today $1.99

For Trey DeLuca, the idea of settling down was entirely unsettling. As VP of sales for his family's wine company, he's never in any one city—or with any one woman—for long, which is how he likes it. But when family obligations keep him temporarily grounded in his hometown, he finds the perfect distraction. She's sweet, gorgeous, and sexy as hell…only her life screams commitment.
Between raising her son and struggling to keep her dance school afloat, Sara Reed has her hands full. Dance students she needs—a steamy tangled sheets cha-cha with a self-admitted commitment-phobe? Not going to happen. But sparks fly as the town prepares for a big Valentine's Day gala, and Trey strikes a deal with Sara…he'll "manny-up" and watch her son in exchange for ballroom lessons.
With love quickstepping ever closer, Sara needs to teach this playboy some new steps or risk losing him—and her heart—forever.
Science Fiction > TV, Movie, Video Game Adaptations
Author: Kevin David Anderson, Sam Stall
Regularly $3.99, Today $1.99

Journey to the final frontier of sci-fi zombie horror!
Jim Pike was the world's biggest Star Trek fan—until two tours of duty in Afghanistan destroyed his faith in the human race. Now he sleepwalks through life as the assistant manager of a small hotel in downtown Houston.
But when hundreds of Trekkies arrive in his lobby for a science-fiction convention, Jim finds himself surrounded by costumed Klingons, Vulcans, and Ferengi—plus a strange virus that transforms its carriers into savage, flesh-eating zombies!
As bloody corpses stumble to life and the planet teeters on the brink of total apocalypse, Jim must deliver a ragtag crew of fanboys and fangirls to safety. Dressed in homemade uniforms and armed with prop phasers, their prime directive is to survive. But how long can they last in the ultimate no-win scenario?
Cookbooks, Food & Wine > Baking > Desserts
Author: Betty Crocker
Regularly $19.95, Today $2.24

Spectacular cupcake recipes made from scratch or with a mix. Get ready for adorably decorated and deliciously flavored cupcakes made easy! Betty Crocker The Big Book of Cupcakes features 175 delightful cupcakes, all using new and fun decorating ideas anyone can master and simple ingredients available anywhere. And as a unique feature, almost every cupcake can be made from scratch or with a mix: You decide which method to follow.
Recipes include kids' party favorites like Double Chocolate-Peanut Butter Cupcakes, as well as sophisticated flavors like Mocha-Caramel Cappuccino Cupcakes. You'll find:
More than 175 cupcakes, with a tantalizing full-color photograph of every cupcake, plus helpful how-to photos showing easy decorating techniques
A special Kids' Party Cupcakes chapter with decorated treats like Puffer Fish Cupcakes, Monster Truck Cupcake Pull-Aparts and Campfire S'Mores Cupcakes
Dazzling Holiday and Special-Occasion Cupcakes chapters including fanciful creations like Easter Egg Baskets, Almond-Filled White Christmas Cupcakes and Molten Caramel Apple Cupcakes
Perfect for bake sales, birthdays, holiday parties or just an everyday treat, Betty Crocker The Big Book of Cupcakes is one book that really takes the cake.
Management & Leadership > Negotiating
Author: Roger Dawson
Regularly $16.99, Today $1.99

Roger Dawson's Secrets of Power Negotiating has changed the way American business thinks about negotiating. Thinking "win-win"—looking for that magical third solution in which everyone wins but nobody loses—can be a naive and ultimately unsuccessful approach in today's tough business environment. Power Negotiating teaches that the way you negotiate can get you everything you want and still convince the other side that they won also. This third edition has been completely revised and updated to reflect the changing dynamics of business today. New and expanded sections include:
Twenty sure-fire negotiating gambits.
How to negotiate over the telephone, by e-mail, and via instant messaging.
How to read body language.
Listening to hidden meanings in conversation.
Dealing with people from other cultures.
How to become an expert mediator.
Secrets of Power Negotiating covers every aspect of the negotiating process with practical, proven advice, from beginning steps to critical final moves: how to recognize unethical tactics, key principles of the Power Negotiating strategy, why money is not as important as everyone thinks, negotiating pressure points, understanding the other party and gaining the upper hand, and analyses of different negotiating styles.
… See the rest of today's Editor's Picks here on page 2
[maxbutton id="87″]
space